Aged pork restaurant, Dwaeji Daecheop!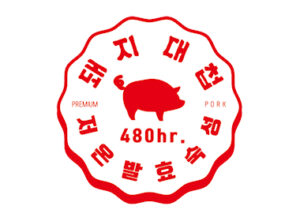 " The Tasty Dwaeji Daecheop "
As a brand specializing in aged meat,
Dwaeji Daecheop is born to win over all others
with our confidence in our pork meat and its taste.
Pork, Korean's favorite meat.
Dwaeji Daecheop uses only the first-class domestic pork to ferment and mature it in low-temperature for 480 hours with its own technique developed for 2 years.
We provide the best taste of all parts of meat, including premium pork belly, aged boston butt, aged pork neck, aged pork ribs.
Men, women, and children can all enjoy the aged pork menus of Dwaeji Daecheop.
How many competitive factors does your store have?
The success of a business depends on its monopolization of supriority!
Dweji Daecheop's Know-how of Fermentation
Patented Low-Temperature Fermentation Aging Method
『 Fermentation is NOT all the same! 』
After years of research, Dweji Daecheop has found the optimal time and temperature.
First aging of meat in low temperature, and second aging as fermentation;
total of 480 hours of aging is done to produce the luxurious meat.
Dwaeji Daecheop's 2 part & 3 part system, challenge yourself to over 25 million KRW of net profit!
Swipe for more information

3 Part
Multi-Operation System




Lunch

Aged kimchi dish, also perfect for lunch! Specialized aged kimichi restaurant!



Dinner

Aged pork dish, compare it with the savory flavor of beef!



Delivery

Enjoy your lunch and dinner at home!
Revenue & Profit Examples in 3 Part Operation System: Sales and Profit Example of Lunch+Dinner+Delivery Operation
Swipe for more information

Currency: Korean Won(KRW) - Details may change depending on the store size and other conditions.

| Division | Lunch | Dinner | Delivery |
| --- | --- | --- | --- |
| revenue | 20,000,000 | 55,000,000 | 25,000,000 |
| business profits | 4,000,000 | 15,000,000 | 4,000,000 |
This is the actual delivery container developed by the HQ.
The exact quality of menu in the store, delivered to the customer
Swipe for more information

3 non-negotiable principles

Best quality
Healthy ingredients
Perfect hygiene
Made with 480 hours of waiting aged pork
1 USE TWO-BURNER ROASTER
Roaster for both meat and soup / 3 flavors of complimentary soup only in Dwaeji Daecheop
ㅤ
2 GRILL TABLE IGNITION
Igniting charcoal at multiple tables at once / igniter take 150~180 seconds to ignite / sequential ignition of charcoal delays setting time / minimize table rotation rate
3CHARCOAL OF DWAEJI DAECHEOP
BinchoTan Charcoal
4BRAND LUNCH MENU
A restaurant specializing in aged kimchi dishes made with aged kimchi during the day
ㅤ
5Fermented Meat Supply
: Patented fermented meat: Low-temperature fermentation
: Supply of primary low-temperature aged meat
: Galbi pork, which is hard to form, is prepared before storing
: Meat trimming: Can be learned through cooking videos
: Change in the market price of meat: changes in every 2 weeks

63 types of pickled vegetable
stocked as finished products to be used immediately
Perfect match with meat - Pickled vegetable is made with special fermented lacto sauce and matches perfectly with meat
Enjoy your time with your precious people even more!! Meet a variety of menus made with Dwaeji Daecheop own recipe.